v-box®
For the fast and reliable transmission of reports as well as the reliable and free integration of your laboratory equipment.
Why the v-box®?
The v-box® guarantees secure, stable and fastest possible data transmission of internal and external laboratory results directly into your practice / clinic information system, the web application v-consult® and the Viollier app.
The v-box® brings together in a single report laboratory analyses carried out at practice laboratory and at Viollier.
Your results are automatically extended with the correct age-, gender- and device specific reference values
The v-box® reduces the number of companies involved, increases the stability of data transmission and thus simplifies the communication.
You have one contact for your internally and externally carried out laboratory analyses.
Your advantages
Unique integration of your practice laboratory (Point of Care Testing)
Combining the results of internally in the practice laboratory and externally carried out analyses in one report
Results from the practice laboratory are automatically extended with the correct age-, gender- and device specific reference values
Management of the reference values of your practice laboratory analyses by Viollier laboratory specialists
One contact for both Point of Care and externally carried out analyses
Stable integration of your POCT devices free of charge – no licence, support or service fees
Installation, training and support for free and from a single source
That's how it works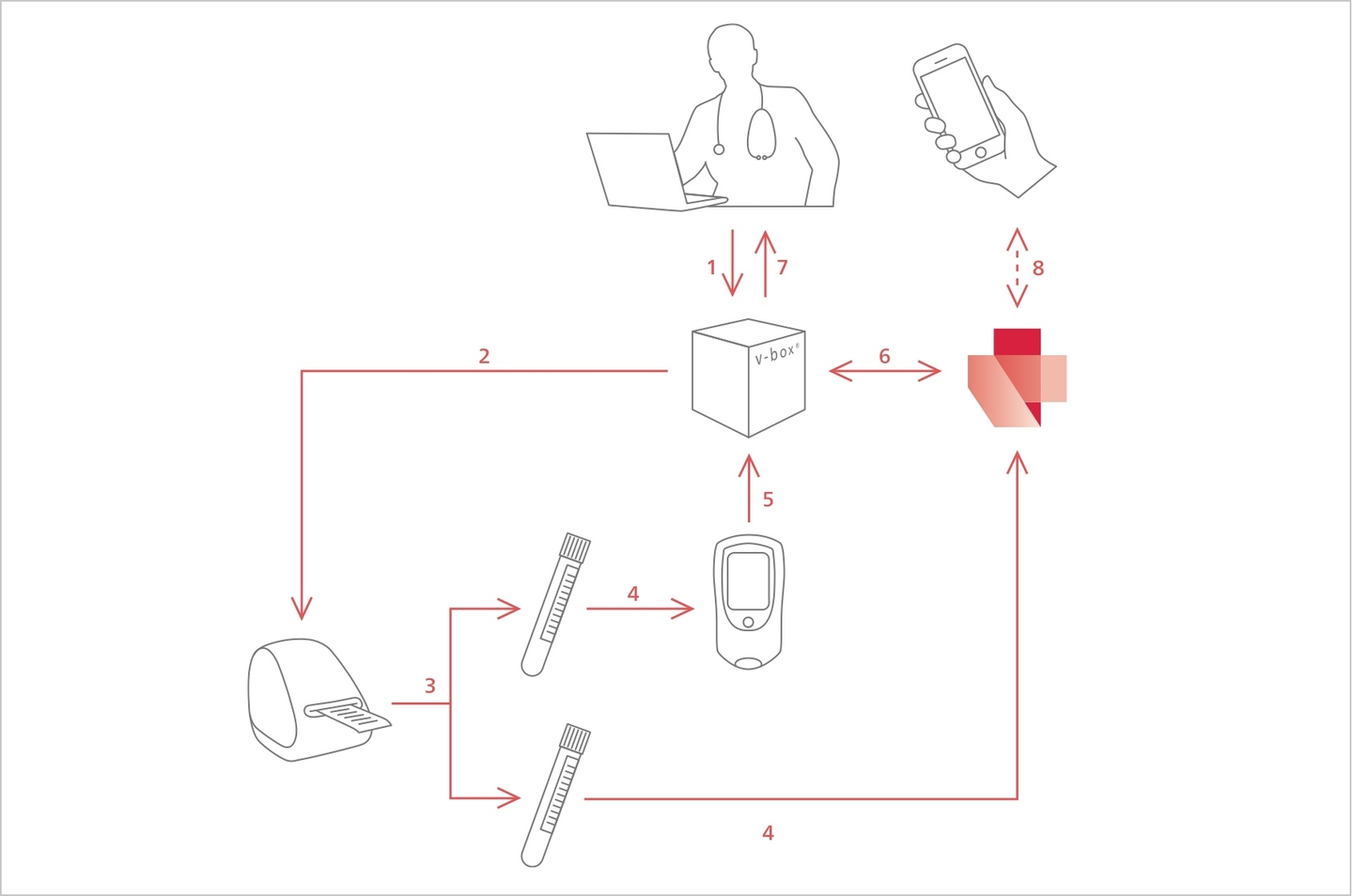 Prescription of internal and external analyses
Print of the labels
Labeling of the sample material for internal and external analyses; sampling
Carrying out internal and external laboratory analyses
Automatic and error-free assignment of internal analysis results
Extending internal results with reference, age- and gender-specific reference values as well as merging with external results in one report
Query of reports in your practice / clinic information system and v-consult®
Access to internal and external results as well as push messages via Viollier app – anywhere, anytime
POCT devices that can be integrated
| | |
| --- | --- |
| 2 Afinion™ / Afinion™ AS100 | Reflotron® Sprint / Plus |
| CoaguChek® Pro II / CoaguChek® XS Plus | Spotchem™ EL SE-1520 / EZ SP-4430 / D-Concept |
| cobas b 101 | Triage® MeterPro |
| cobas h 232 | UC-1000 |
| DCA Vantage® | Urisys® 1100 |
| DRI-CHEM 3500i / 4000i / 7000i / NX500i / NX700 | XP-300™ / pocH-100i™ / KX-21™ |
| Hemocue Glucose 201 DM / Hb 201 DM |   |
| Microsemi CRP / Micros 60 |   |
| Piccolo xpress™ |   |